The Six Secrets of Success in Virtual Meetings
3
min read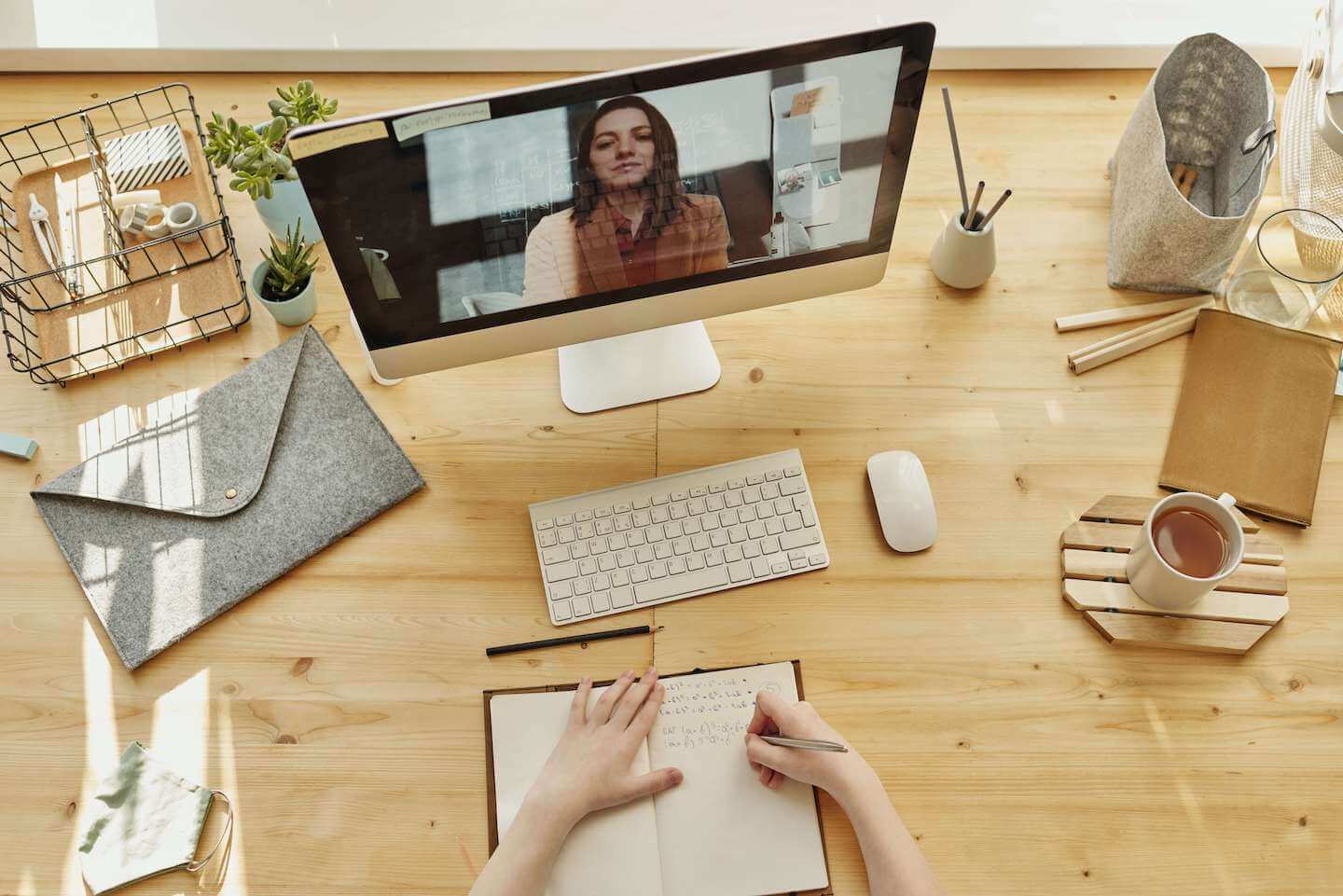 Image source: pexels.com
Video communication has never been more important. In today's networked economy, with millions of information workers collaborating 24/7 across time zones, online meetings are big business. Whether you use conferencing products from Microsoft Teams, Skype, or Zoom, you've probably spent hundreds of hours in front of your computer's camera over the last 12 months.
The current COVID-19 crisis has only accelerated this worldwide phenomenon. Today, students participate in virtual classes, employees make remote presentations, experts host international web-based seminars and jobseekers attend online interviews. We've collated six of the best video communications practices from sources including Stanford University researchers, on-camera business coach Karin Reed, and the CareerLunch team that are particularly relevant for online meetings and virtual interviews.
1. Make eye contact
Look into the camera. See the camera as your conversational partner, rather than simply the tech facilitating the call. By looking at the lens (and not the screen), you're looking right into the eyes of your colleague. A direct gaze can be seen as a mark of honesty and a way to build relationships. One trick is to elevate your laptop to eye level, so you're looking straight—rather than up or down—at your counterpart.
2. Mind your position
Keep your distance. Most people interacting on Zoom sit at the same distance from their laptop as when they type, which means the only part of their bodies we see on camera are their heads. Move your chair back an arm's length from the screen so that your partner can see your torso and you'll bring more personality and expressiveness into your conversation. Some people use their hands to communicate. By thinking horizontally—rather than limiting oneself to the screen around their face—jobseekers can show confidence and display emotions that will build rapport with recruiters.
3. Adjust your lighting
Lighten up. Most internal lights are in the ceiling. Home and corporate facilities haven't been designed for contemporary video communications, which is why people often appear on Teams or Zoom with shadows across their faces (this can also happen when you have a window behind you). Think of how movie directors illuminate their sets—they want the audience to read the expressions of their actors. If you can position a light at a lower level and in front of you, your non-verbal communication will be richer, and you'll be able to connect more effectively.
4. Show authenticity
Be yourself. Online interviews come with high stakes, so it's tempting to project an image of what you think recruiters want to see. Don't be afraid to let your personality shine through. With so many interactions taking place online, recruiters are thrilled to see authenticity in interviews. Especially in informational interviews, where you talk directly with a professional or a team lead instead of HR, authenticity is key to leaving a lasting impression.
5. Dress appropriately
Dress with care. You may be working from home, but it's still important to dress appropriately. Long story short? No tracksuits! The old adage about picking your wardrobe according to the position you're aiming for still applies. But, again, you can afford to show some of your own personality in your choices. "Dress for the role you want and the person that you are," advises a Forbes 2020 article. If you have multiple interviews with the same company across different days, keep your looks similar. Avoid vertical stripe patterns that can affect monitor frequencies. (And if you have a profile picture on the platform you will be using, be sure that its style matches yours.)
6. Consider your surroundings
Look behind you. Even if you've nailed the technological approach, you look terrific, and you've developed a similar connection as you would face to face, an online interview can still be derailed by a basket of dirty laundry in the background. Consider your environment; if you're Skyping from your bedroom because it's your only private space, make sure you're okay with whatever's visible behind you, whether that's sports gear or a bookshelf.
Online interactions offer different challenges to in-person meetings, and the candidates who work on their video communications will gain an edge in recruitment. For jobseekers looking to sharpen their own presentation skills, informational interview platforms like CareerLunch offer multiple opportunities to meet professionals virtually in an informal setting.